Sound Recorder is the best software to Record Audio on Windows versions. This multipurpose audio recorder can not only record music from any source, but also your own voice, because it works in parallel with your sound card. You can easily record the sound coming from any Windows PC even if you don't have a Stereo Mix option.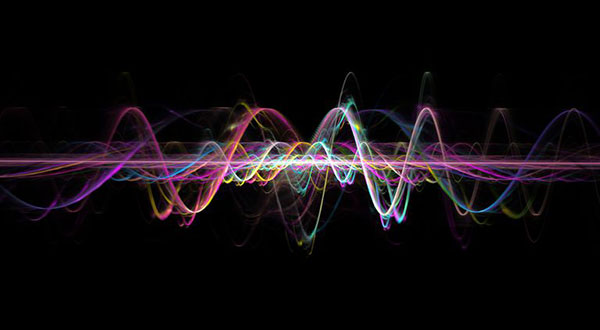 This software supports streaming audio from the Internet, external input devices such as LPs, CDs and music cassettes, the record input/source from a microphone, and apps like Media Player and Quick Time.
---
How You Benifit from Free Sound Recorder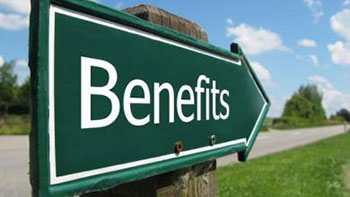 Free Sound Recorder records music and speech exactly the way you hear it. It achieves a previously unheard of level of precision thanks to its sophisticated recording engine. It is free, quick and easy to download and install due to its small size. Use is unhampered due to the clear-cut interface, and the recording quality is top-notch.
---
Free Sound Recorder Review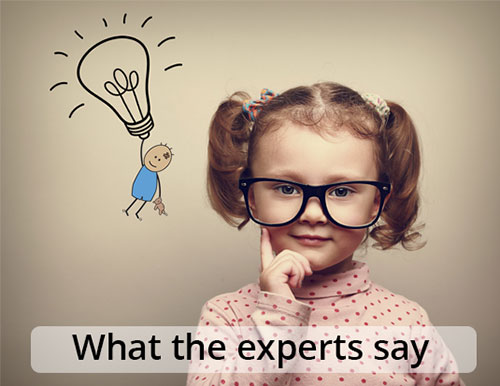 "Free Sound Recorder is a straightforward, yet effective audio recording program. It enables the user to record audio into MP3/WMA/WAV formats from popular websites such as YouTube, VEVO, Grooveshark, and Jango, some of which have banned downloads due to copyright issues. Recording radio is also possible from online radio stations. You can even record your own songs with a microphone. Apart from the ability to record audio for free, Free Sound Recorder can also skip silent passages, which is especially useful when you're recording a lengthy audio with a lot of blank spots. Free Sound Recorder can also create scheduled tasks – this is done by setting the Start time and the Stop time in advance so you don't have to be physically present to record your favorite music or radio" – Paul Jones, sound technician
---
Free Sound Recorder Features
Free Sound Recorder records sound from all audio sources to all versions of Windows 10. These include online streaming, video cassettes, VoIP or conference conversation, Skype, Real Audio and Windows Media Player among others. You can record and save any sound you want and listen to it on your computer.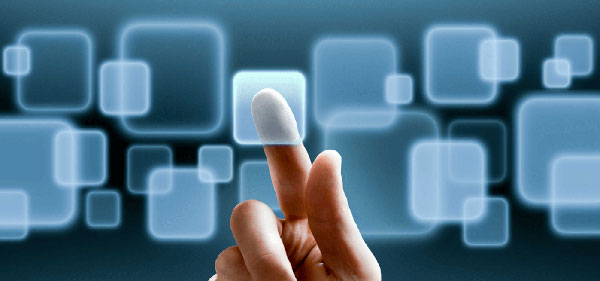 ---
How to Record Audio on WIndows
Step 1. Select Sound Card and Source
To record audio on Windows, download, install and launch Free Sound Recorder.
Go to "Show mixer window" to select the sound source from the "Recording Mixer" dropdown menu. You can choose from Stereo Mix, Aux Volume, Phone Line, Video Volume, Line In, Mic Volume, and CD Audio. Then choose the recording device from the "Recording Device" dropdown list. Adjust the volume and balance.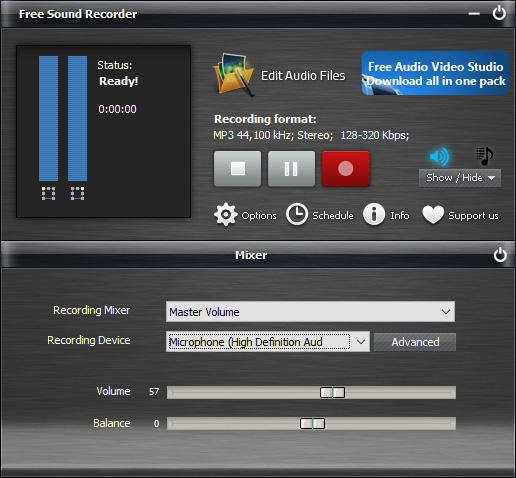 Step 2. Adjust Settings
Click "Options", "General Settings" and specify an output format among MP3, OGG, WAV, and WMA. You can use the configured presets in Settings or specify the configuration parameters to adjust the recording quality. Then click on "Change" to choose an output folder. The software can auto-name the recorded file by date and time.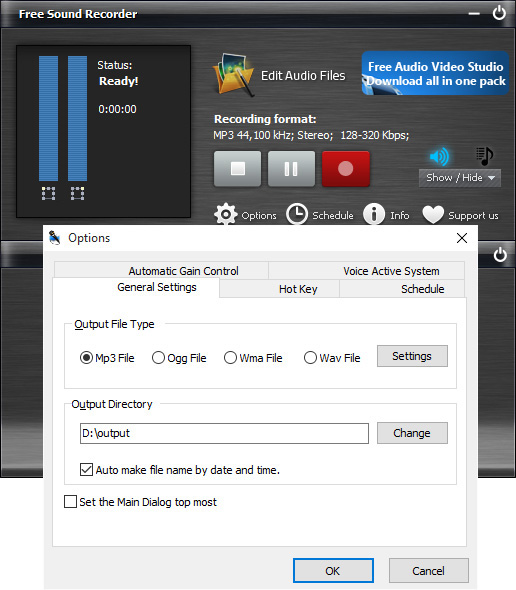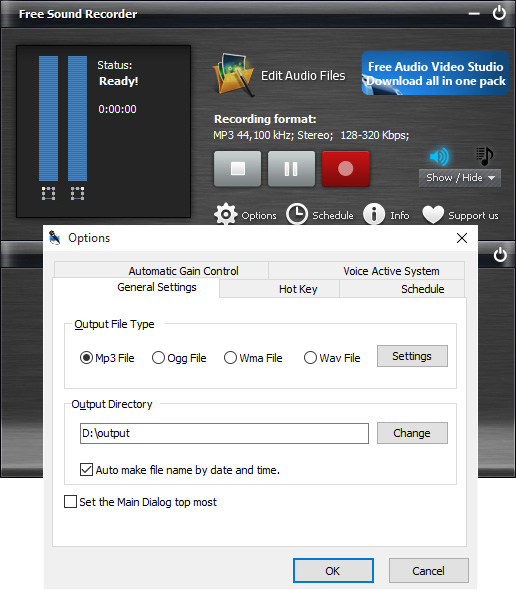 Step 3. Record Audio on Windows
Click "Start recording" to start and "Stop recording" to stop. The recorded sound is output directly to the output folder and listed with details such as time, file name, duration and location. You can play the recording with the built-in player.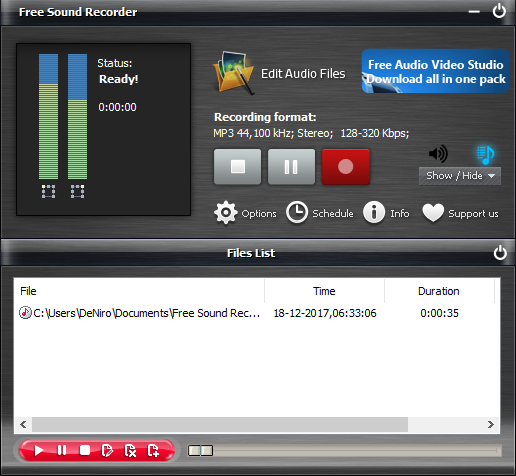 ---
Video Tutorial
---
Why Choose Free Sound Recorder over Others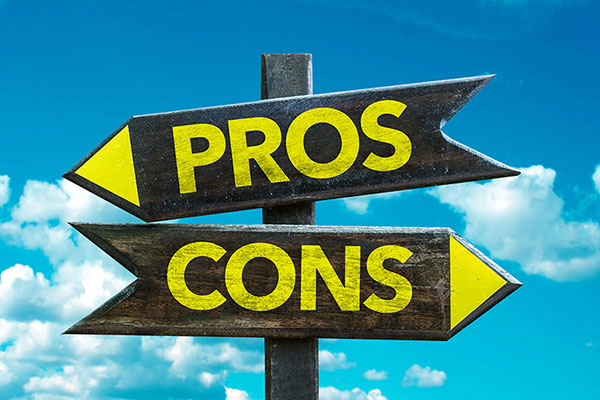 Drawbacks to Free Sound Recorder Alternatives
Other free recorders, online or offline, are more limited in terms of the number of sources you can choose from to record audio. There are many similar products on the market, but none of them are this safe. Moreover, they are either limited trial versions or full of adware.
Pros of Free Sound Recorder
Free Sound Recorder can record music that cannot be downloaded for copyright reasons. It is the best option for anyone who wants to keep downloading audio from their favorite sites. What is more, Free Sound Recorder records the sound exactly as you hear it. It offers a previously unheard of level of precision due to its top of the line integrated recording engine.
---
Audio Recording Tips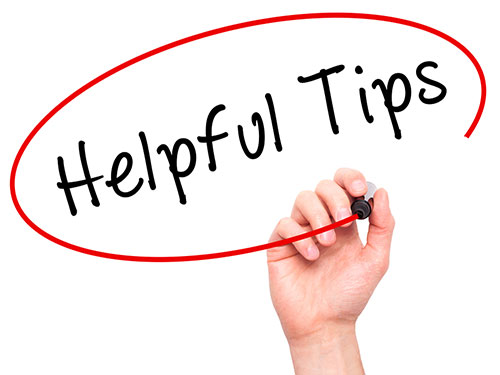 If you can't find any sound source referring to downloading from YouTube, you need to use online streaming. This is the source required to record audio content from SoundCloud, YouTube and similar sites. Choose your favorite music or the audio you need to finish your assignment and download it without any issues and hassles. You will not have that unpleasant issue of downloading music from YouTube and then listening to something completely different.
Tips to Record High-Quality Audio
1. Buy a quality microphone first
2. Keep the environment consistent
3. Reduce ambient noise as much as possible
4. Dampen the sound

Tips to Record Better Vocal
1. Prepare yourself & practice before recording
2. Improve your mic techniques (Control volume, breath sounds & avoid popping and sibilance)
3. Reduce ambient noise as much as possible
4. Dampen the sound

Tips to Record Narration Like Pros
| | |
| --- | --- |
| 1. Put the mic in the right position | 2. Record a demo for testing |
| 3. Listen to the playback with headphones | 4. Make your script conversational & easy to read |
| 5. Stand up while recording | 6. Stick to the script instead of ad-libbing |
| 7. Keep your vocal chords hydrated | 8. Block out the offending sound of the plosives |
| 9. Record a few seconds of silence for further editing | 10. When you make mistakes, pause for a while & go on |
---
Conclusion
Free Sound Recorder can record even music that cannot be downloaded because it is on LP, DVD, tape, video cassette, or CD. Such music can be highly sought-after, especially old and golden classics. Free Sound Recorder is your solution to these limitations. It offers the best quality and specter of sound possibilities available on the market today. Among its main advantages is that it is completely free – no ads, no trial versions, and no viruses or other malware. You can download this sound recorder, a shining example of top-level quality, and use a myriad of formats to your advantage. We recommend doing this as soon as possible. You won't believe the sound source options!
---
Q & A about How to Record Audio on Windows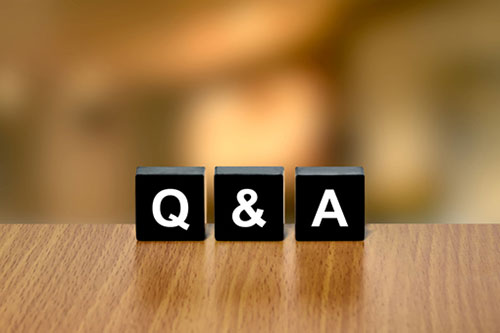 Question: Do any limits or other barriers exist when recording audio with Free Sound Recorder?
Answer: The total space on your hard disk is the only limit. Other than that, you can record as much and as often as you want with Free Sound Recorder.
Question: I know almost nothing about audio formats. Can I still use Free Sound Recorder?
Answer: Of course. With Free Sound Recorder, you will get hands-on experience with various formats. The software is preset to make recording as simple as possible. With time, you will begin personalizing recording settings and adjusting the software yourself.
Please follow and like us: