Have you ever regretted not recording an important class lecture or business meetings or even a phone conversation? Or, probably digitizing your favorite magnetic cassettes and LPS has been missed before time. Fortunately, modern technology provides us with a variety of simple options today for recording the audio you want, so you literally do not have any excuse for not doing so. Now let's take a look at the top 3 Sound Recorder Software on PC.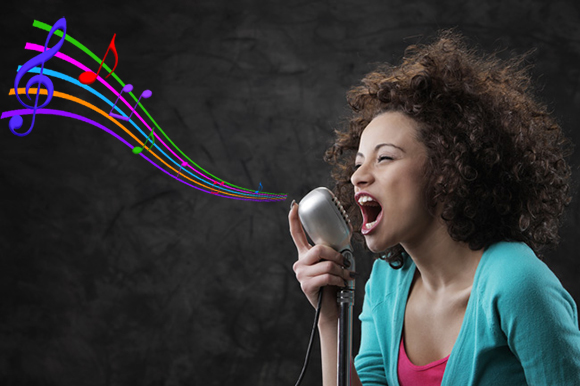 ---
Quick Overview: Best Sound Recorder Software for PC
Free Sound Recorder
Audacity
Traverso
Overall
(5 / 5)
(3.5 / 5)
(3 / 5)
Pricing
Free
Free
Free
Editing Options
Accociated Editor
High Definition Booster/Noise Suppression
Recording Schedule
Voice Activation System
(VAS)
Automatic Gain Control (AGC)
AGC Plug-in
Recording Filelist
Quality Preset
Autonaming
Simplicity
(5 / 5)
(3.5 / 5)
(3 / 5)
Sound Quality
(5 / 5)
(5 / 5)
(5 / 5)
Support
(5 / 5)
(4.5 / 5)
(2 / 5)
UI
(4.5 / 5)
(3.5 / 5)
(2 / 5)
---
Top 3 Sound Recorder Software Choices on PC
After weeks of research on this subject matter, we have found 3 free and efficient options to choose from:
There are various aspects that you need to consider while asses and select the voice recording software. Here are the criteria and features you may look at to compare the most efficient voice recording software.
1. Free Sound Recorder
Free Sound Recorder is developed and designed to record any voice or sound you hear. You'll get what you hear with this efficient tool. You can simply record voice or sound from an external LP, microphone, DVD/CD player, cassette, Satellite/FM/AM radio, etc. And, the recordings will be of high quality just like you expect.
Where it is recording podcasts, creating videos, advanced production tasks (sound), digitizing from musical instruments (music), having robust and well rounded audio editing/recording software is very much essential. However, there is a number of sound/voice recording software, ranging from professional grade production (audio) suits to lightweight applications with necessary functionalities (editing). If you're looking for all the functionalities in a single application, Sound Recorder Software would be the best choice for you.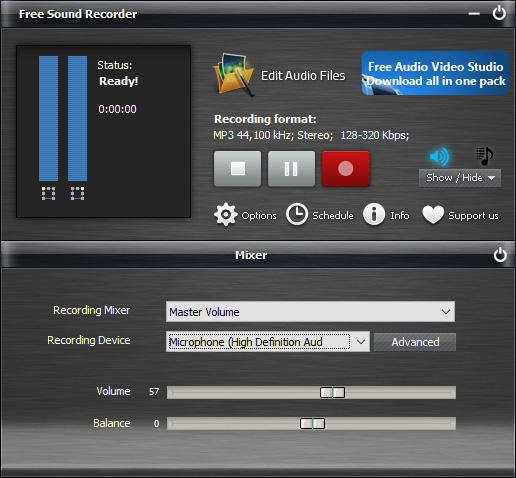 ---
How to Use Free Sound Recorder Software on PC
Step One: Connect Microphone to Your PC
Launch your Free Sound Recorder. Then, connect a microphone to the microphone input of your PC or PA to the Line-In or connect the output (Line-Out) on a sound system (external) on the computer.
Step Two: Choose the Sound Card and Sound Source
Find the "Mic Volume" clicking "Show mixer window" button from the dropdown list of "Recording Mixer". You have to select the right recording device from the dropdown menu of "Recording Device". Then, adjust the balance and volume.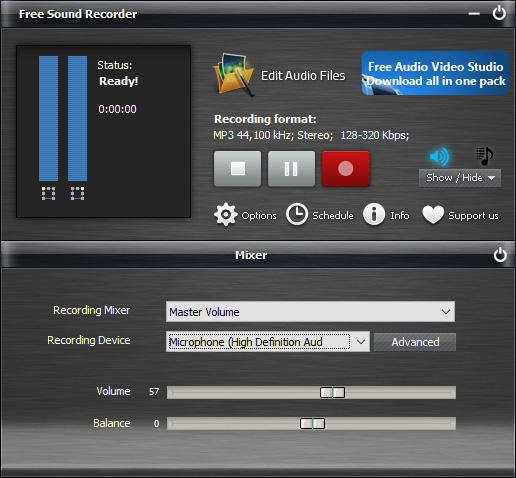 Step Three: Adjust the Recording Settings
To activate the "Options" window, just click "Options". You have to specify a format (output) among WMA, MP3, OGG and WAV. To adjust the quality of the recording, click "Settings" to specify the parameters and the presets. To select the output folder, you need to click "Change". You can also auto-name the file (recorded) by time and date.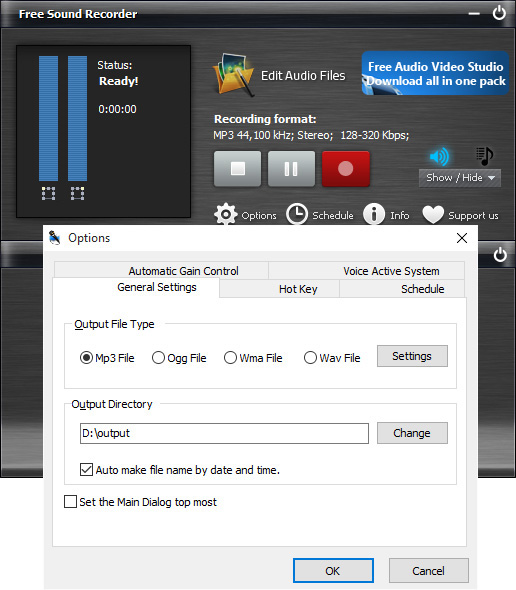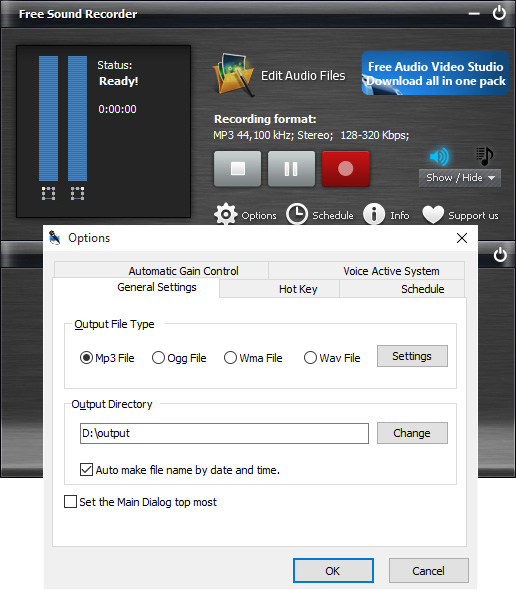 Step Four: Start Recording
To start recording, just click "Start recording" and to stop, click "Stop recording". The output (recorded sound) will be directed to your output folder and listed (with essential information) in the file list like location, file name, duration and time.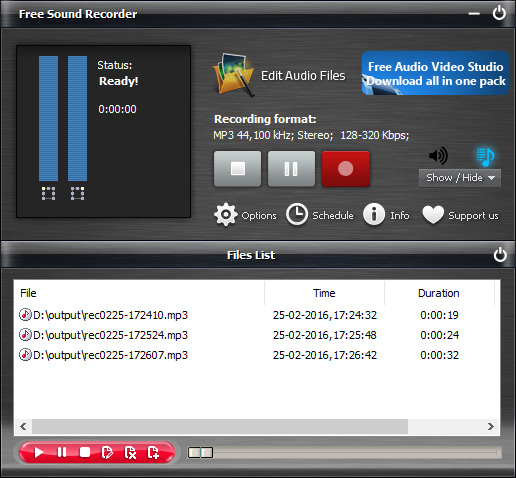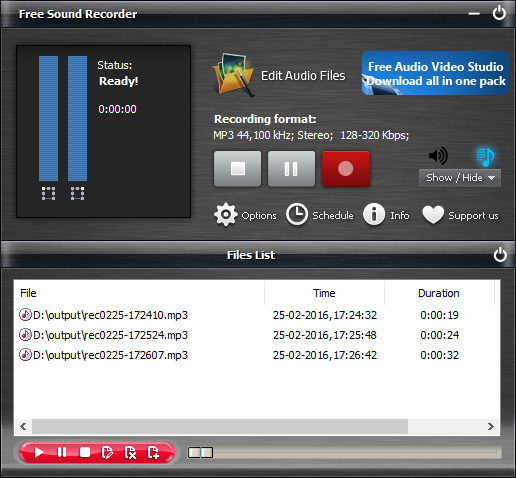 Video Tutorial – How to Record Audio from Computer with Free Sound Recorder
---
2. Audacity
Audacity is efficient audio recording software that puts a huge power into the hands. Moreover, it's loaded with various features (editing) and the capability to export tools that effectively work along with multimedia on a Mac PC.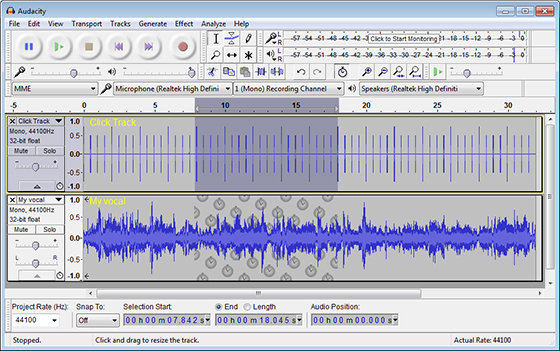 Cons:
Some operations and features are not quite intuitive.
No indicators of record levels, track levels or final mix levels.
Video Tutorial
---
3. Traverso
Traverso is recording software (free) that will meet most of your recording needs. It provides you with a wide range of options that helps you to record CDs (demo) with ultimate ease. There are some other brilliant features that you will like such as non-destructive editing, real-time (lock-less) audio processing and ability to edit files (audio) without changing the original quality.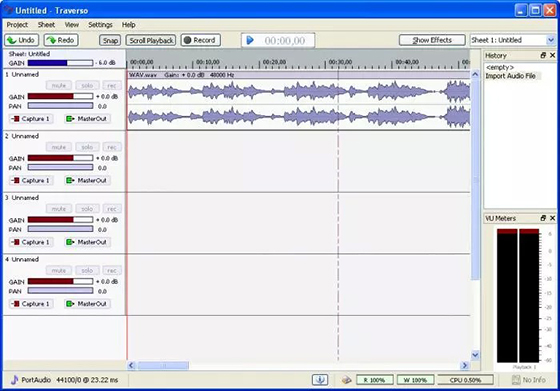 Cons:
Traverso does not have multi-track (advanced) recording capabilities.
It may take quite some time to learn for the new users.
Tutorial
Check Traverso step-by-step guide.
---
What to Look for in Sound Recorder Software
Most of the recording software (voice/sound) comes with a number features and tools to perform a great range of tasks, including editing, audio input and out. There are also some significant tools and efficient features that you might be interested in: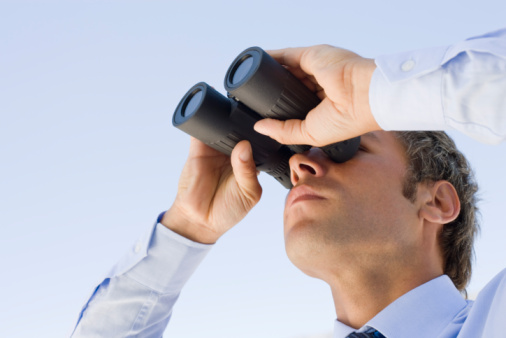 Efficient Features for Recording
It must include the common recording features such as record voice, sound, music, notes or other online audio. Also, the sound recorder should have some additional features or tools so that the users get the desired output easily from the input.
Ease of Use
It shouldn't be difficult to record your voice on the computer. The whole voice recording process should be simple and straightforward from installation to implementation.
Audio Filters or Special Effects
Most of the voice recordings require a little polishing or editing for better sound quality and audibility for the final edition. This can be done indifferent types of audio filters like Noise Reduction, Click and Pop removal, Amplify, etc.You can apply special effects to achieve a specific audio effect and further enhance such as Echo, Bass Boost, Sound Warmer, etc. An efficient set of filters are crucial components of sound recording software whether you are using effects and filters for voice morphing or clarity.
Edit Options
Simply recording an audit is not enough most of the cases for a sound recorder as you may need to edit the files and further enhancement are required. Insert and trim silence are useful features used to insert or remove silent audio to a file or track. Various options for changing size and file format are generally used for the output files and useful in the desired quality of the audio. For better archiving, a tag editor (integrated ID3) is used to appropriately label the files.
Help and Support
A reliable support and help system is important for a trouble-free and speedy learning experience, and it increases the confidence of the users. Manuals, tutorials, help files and FAQs quickly solve regular issues, whereas live chat, forum, email and phone support are most effective in addressing particular problems.
---
User Questions & Answers about Sound Recorder Software on PC
Q: I don't know how to use the application, so is there a user manual or tutorial of the software?
A: Of course! Every application of our company has tutorials to make you understand how to use it.
---
Q: I've recorded it, but there is no sound during playback?
A: Please carefully check if you've selected the right source for recording. Moreover, you've to ensure that the volume (recording) is not set to zero. You can check our tutorials (recording) for further guidelines.
---
Q: I can record from my mic but can't record audio inside of my computer, why?
A: When you try to record audio from your computer, you should choose the sound source as "Stereo Mix". If you choose Mic or other sources, the sound inside your computer will not be detected by sound recorder software.
---
Q: Can I record the BGM in a PC game?
A: Yes. You can start recording first (remember to choose "stereo Mix" as sound source) and then launch your game to play. When you are done recording, switch to Free Sound Recorder to stop recording and then you get your BGM recorded as an audio file. You may need some editing work after that so you can install our free audio editor via  the button below the filelist. Actually it is more suggested that you search for the BGM online to download it because it may have been published as a track of an OST.
---
Q: I want to record music on my PC. Do I need to worry about the sound of mouse clicking or keyboard pressing?
A: If you want to record sound from inside your computer, please choose "Stereo Mix" as your sound source and Free Sound Recorder will not record any external sound, neither mouse clicking nor key pressing; if you want to record from microphone, well, it is possible that you get some clicks & pressing sound recorded – so the best way is to do your clicking and pressing as noiselessly as possible, while keeping your mic near the speaker, away from your mouse & keyboard.
---
Best Way to Record Phone Calls on Android Phones – Best Android Phone Call Recorder Apps
For some of us recording a phone call could be necessary, whether it be for legal purposes, future reference, the job or simply because you need to back call up. Making a record of your phone call was not that easy 10 years ago, especially when you are not equipped with a proper recorder device or software tool and be ready for an incoming call. Even today, many Android phones still lack the built-in automatically phone recording feature. Many of the third party phone call recording app in Google Play Store cannot provide satisfying audio quality. Here we've gathered some information and guidance for you guys to help record phone calls on your Android phones.
Record Phone Calls with Google Voice
Most of the Android phones are built in with the Google Voice app, thus makes recording phone calls via a Google Voice account a piece of cake. This app is free for most of the calls; the downside is that it only records incoming calls instead of outgoing calls.
1. Own a Google Voice account and turn the "Incoming call options".
You can visit Google Voice website to register an account. As soon as your account is created, enable the recording on your account: go to Google Voice homepage, hit the three-dot button on the left to choose "Settings".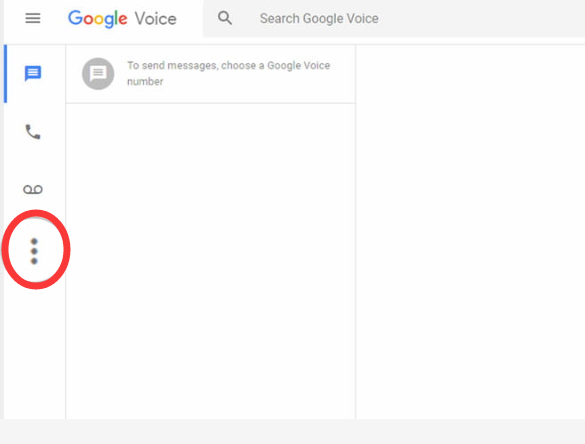 In the "Settings" page, scroll to "Calls" section to slide the "Incoming call options" on.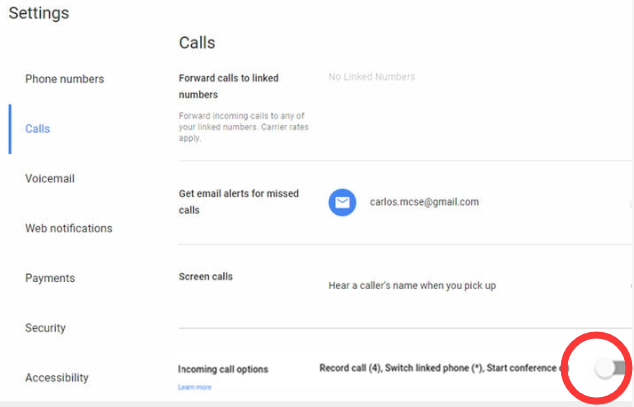 Now you can easily record the Android phone calls by hitting the "4" on your keypad.
Unfortunately, as long as you hit "4", the people on both ends of the call will hear a message saying that the recording is in progress – that may cause difficulties and awkwardness if you are trying to record the phone calls secretly without being noticed; in other words, if you are trying to get some evidence for legal use, recording with Google Voice will highly likely make things go south.
2. Google Voice App
You can record phone calls with Google Voice app. Just click the hamburger menu on the top right to go to "Settings – Advanced Settings" and enable "Incoming Call Options".
---
Record Phone Calls with Third-party Apps
There are a ton of apps in Google Play Store that can record Android phone calls and some of them work better than others, providing higher audio quality. We've tested a few of the most popular phone call recorder apps and picked up several of them for your reference. Before checking our suggestions, you should notice that most of the similar apps rely on your mic to record incoming & outgoing calls, which makes the call sounds a bit quiet when you are not recording.
Automatic Call Recorder Pro
Automatic Call Recorder Pro may be one of the best phone call recorders. Its interface is modernized and easy to use. It looks awesome and works even better. It allows you to record or exclude recording calls per phone number or contact name. There are different recording modes (by number/contact/non-contact/only selected contacts). It can record calls automatically no matter if are calling or being called. You are allowed to set the recording audio quality. It even includes a "shake to record" feature, which enables you to record whatever phone calls whenever you want just by shaking the phone.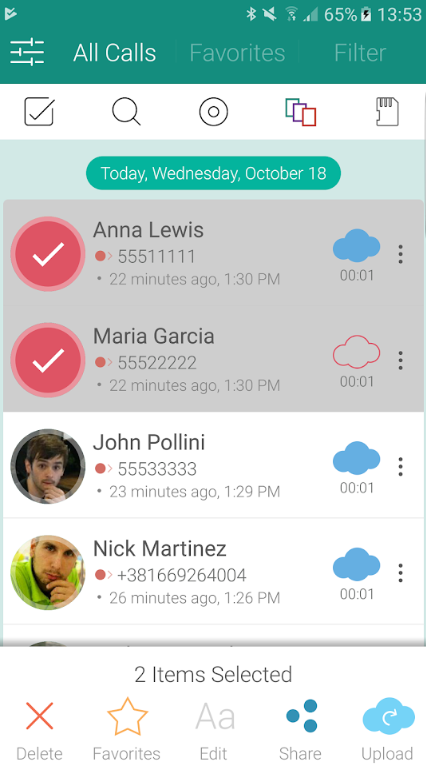 After you record the call, you can play it back, save it to an MP3 or WAV file on your SD card, send it to email, share it via SMS/Google Drive/Dropbox/Whatsapp/Skype/Viber, mark the recording or delete it any time.
Automatic Call Recorder Pro does more than just call recording. It is able to identify the incoming phone numbers in real-time so that you can avoid receiving spam calls or other calls you don't want. You can set the password to protect your recordings.
---
Call Recorder – ACR
Another amazing phone call recording app in Google Play Store, which includes a freemium ($0 with ads) version and a premium ($4 with no ads & supports manual recording) version. The app looks simple and amazingly practical. Like Automatic Call Recorder Pro, you can record or exclude recording calls per phone number.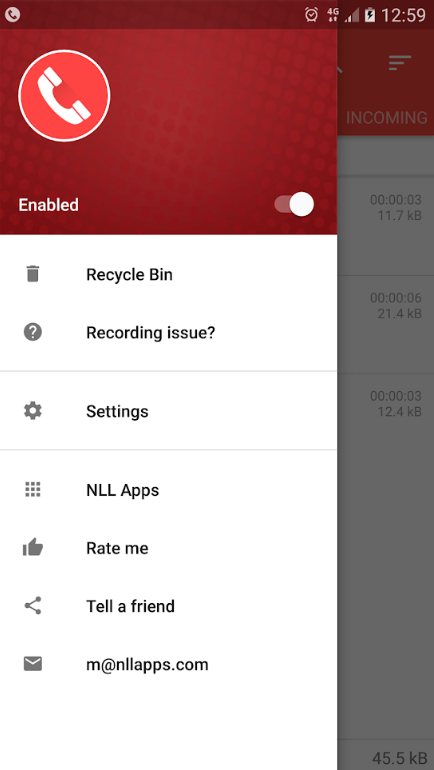 You can manage the recordings by listing them by matching phone numbers to your contacts. If you have many call recordings stored, it can search by phone number/contact name/note. It will automatically delete old phone recordings after a period of time – if you want to keep some recordings, just mark them so that they won't be deleted. For those deleted recordings, luckily, there is a Recycle Bin for easy recovery of them. You are allowed to multi-select, delete, send the recordings. It provides password-protection to your recording files. You can share a recording or only a part of it. It allows transferring recording between many devices and cloud upload (Email, FTP, OneDrive, Dropbox, Google Drive, WebDAV & WebHooks, premium version only).
Call Recorder – ACR supports only cellular calls, which means if you are using the WiFi network or VoIP to make calls, they will not be recorded. The solution is to turn off the WiFi while calling, which is the major downside of this phone recorder app. Meanwhile, not all the Android phones support call recording with Call Recorder – ACR properly because of differences in capability, chipset/CPU, Android OS version or smartphone brand/model.
---
Record Phone Calls with External Recorders
That may be the dumbest way to record your Android phone calls but sometimes, it could be the most practical way. If you are not a "techy" type person, you may find it more difficult to deal with an audio recorder on a smartphone than to use an external recorder you are used to; or you happen to have an external audio recorder at your hand when a call comes in and you haven't prepared your phone for call recording.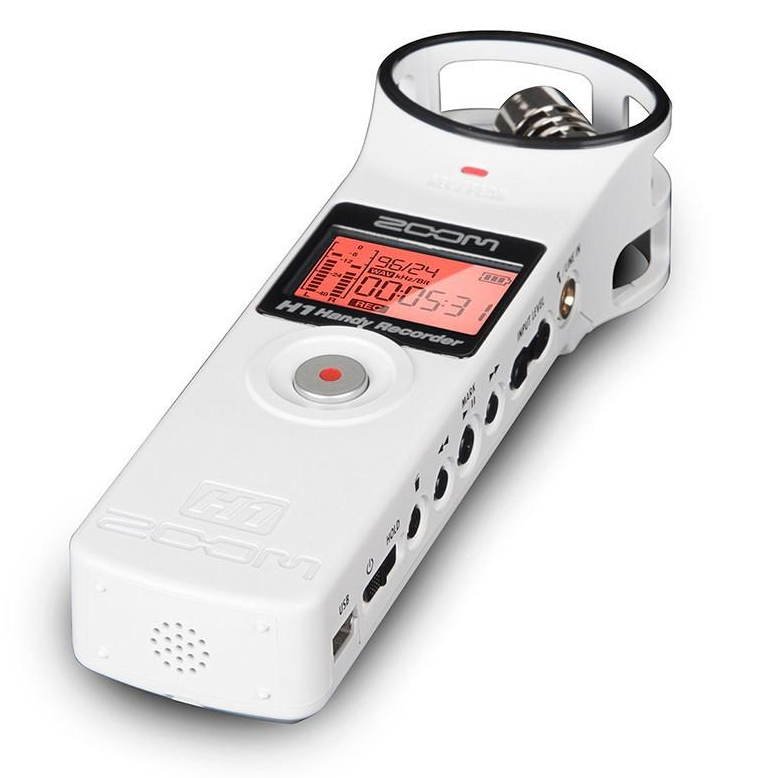 A regular external recorder can be plugged into your Android phone's jack (3.5-millimeter) so that you can record the calls through line-in. If your phone does not have a jack or for some reason it's unavailable, there is an even more primitive way – putting the call on speaker and record it with your external recorder. Yes, silly yet effective.
There are many great portable audio recorder options out there, like Zoom H1n Handy Recorder ($113.48), Roland R-05 Studio WAVE/MP3 Recorder ($195.99), Sony PCM-M10 Portable Linear PCM Voice Recorder ($399.99), TASCAM DR-40 4-Track Portable Digital Recorder $169.00), Yamaha PR7 Pocket Recorder with Overdub Functions ($249.03). Of course, there are some decent alternatives from smaller brands which also provide satisfying recording quality and cost you between $30 and $100.
Portable audio recorders may be more reliable especially when you are doing a field job that involves many recordings & you need to save your phone/power bank battery for other stuff; it's also more friendly to seniors who are not familiar with smartphones. However, no matter how cheap & easy they are, they still cost more than a regular audio recording app. So, we recommend you use a call recorder app to save some bucks.
---
How to Record Skype Calls
If you are using Internet phone software like Skype, you may feel the need to record the calls from time to time. There are several ways to record Skype calls and you can have the audio-only recording as well as the video.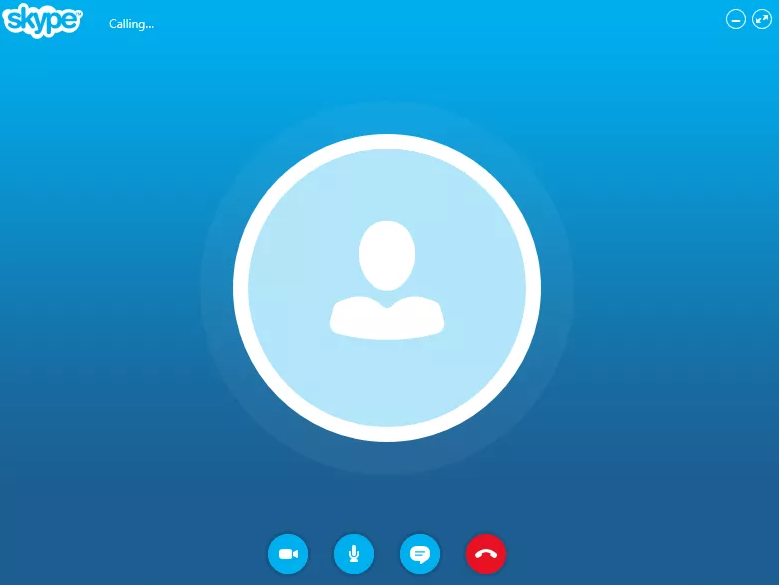 Skype is able to record the calls directly in the app.
During the Skype to Skype call, tap or click the "+" (more menu).
On your desktop/mobile, hit "Start recording".
The recording (MP4) will be posted to your chat after the call, which is available for download in 30 days.
Click triple-dot button (More options) on your desktop or tap and hold on the call recording on your phone to choose the corresponding to save options to save the call recording.
---
Best Way to Record  Phone Call on iPhone – Best iPhone Call Recorder Apps
We have plenty of Android phone record apps and even built-in recording features provided by many types of fine-tuned systems from Android smartphone brands, lucky and convenient. Yet, things are very different for iPhone users. Many people, including me, may have been using iPhone for a few years and there are numerous apps that make our life easier than ever: ordering food, booking a cab, asking for express delivery, house services as well as learning to do almost everything! All these might make you think that recording a simple phone call on iPhone is just a piece of cake. Unfortunately, NO! Recording iPhone phone calls is not like tapping a button like what we do on Android.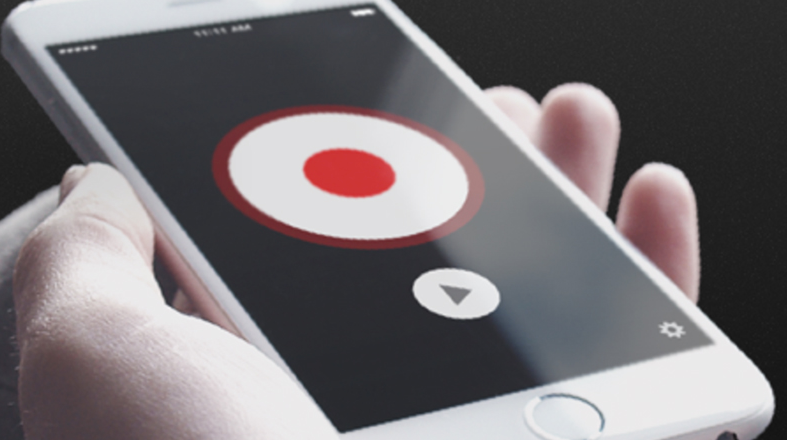 Earlier versions of iOS do not allow third-party apps to access to the mic and the Phone app directly. Things are a bit easier on later versions now because you can record phone calls via some third-party call recorder apps. Some call recorder apps support recording only the incoming calls while some others only the outgoing calls. You should look for a record that can do both, and hopefully for free. Here we've picked some iPhone call recorder apps with great audio quality to save your time.
Let me give you a heads-up that to record with a call recorder app, you have to make calls from the call recorder app itself.
---
How to Record Phone Calls on iPhone
TapeACall Pro
In my opinion, TapeACall Pro is the best paid iPhone call recorder app. It can record both incoming and outgoing calls without any limitation as long as you purchase it. There used to be a one-time fee but currently, you have to pay $29.99/yr. It also provides a call recording app that charges per minute. It can easily record the calls you are already on as well as the calls you are about to make.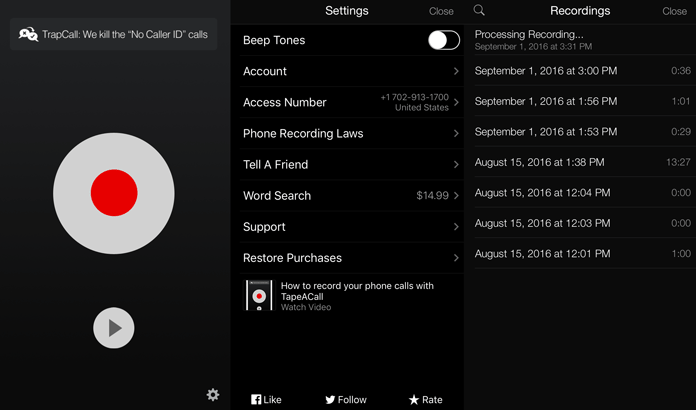 To record your phone call, TapeACall Pro creates a 3-way call (you, the caller & the TapeACall app service). If you are on a call that needs to be recorded, open TapeACall Pro and tap the record button and the app will dial their access number & start recording rapidly. When the recording is finished, the app server will quickly process the audio and show it in the app. A link will be provided so that you can access it privately. You can customize the labels of the recordings to manage them, download the call recordings as MP3 files and share the recordings via email, SMS and social media. It also supports uploading recording to Google Drive, Dropbox, Evernote, etc.
---
Call Recorder – IntCall
Another excellent iPhone call recorder which is safe and produces high audio quality. Unlike TapeACall Pro, it does not save the recording on a third-party server – the recording is saved locally on your iPhone, which makes your privacy even safer. The app is not free but it provides a 3-day trial. You can make national/international calls, but you have to pay for additional credit or make a weekly subscription to record calls.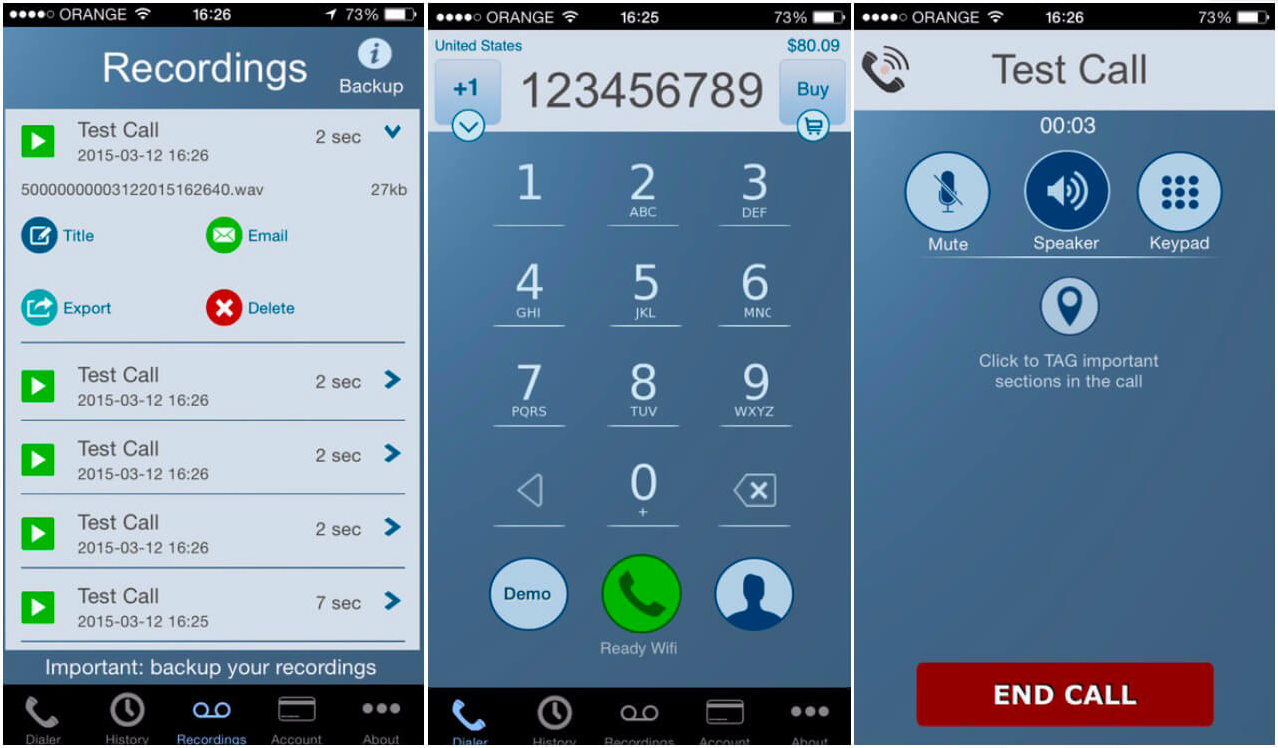 You can transfer the recordings to your computer via iTunes, send them via email, upload them to DropBox, Google Drive, etc. and share them with WhatsApp. The downside is that it can only record incoming calls and it charges per minute (10¢/min for United States domestic call).
---
NoNotes Call Recording
NoNotes call recorder app provides call recording feature for iPhone and allows you to record call within North America as well as the United Kingdom. You can record both incoming and outgoing calls. What's more, you can send the recording files to them to get detailed transcriptions that can meet legal requirements for accuracy. You are allowed to download the call recording, save it in the cloud, share it on Facebook or send it via email.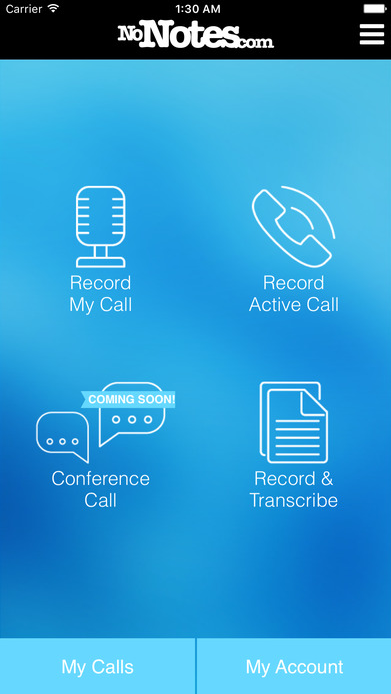 NoNotes Call Recording require registration to use it. It provides 20 minutes of free call recording each month. Free users can record the calls (1 outgoing line), view call history, transcribe the calls and auto-send an email notification when the transcription is done. There are two optional plans, the $96 annual plan & $10 monthly plan, both of which support 2 outgoing lines and have no limitations in monthly allowance.
For users who need a periodic plan instead of a long-term one, they also provide a more affordable and flexible plan, which is 25¢/minute. What you get is the unlimited features the same as other monthly/annual users.
---
Call Recorder Pro
Call Recorder Pro is an iPhone call recorder to record both inbound and outbound calls and save the calls on their server or locally. You are allowed to set which callers to record calls from and which callers to ignore. You can play the recording back, add notes and share it via email, Twitter, Facebook, iMessage, etc. Meanwhile, the recording can be saved and synchronized to cloud services (for Android 3.0 and above) like Dropbox and Google Drive.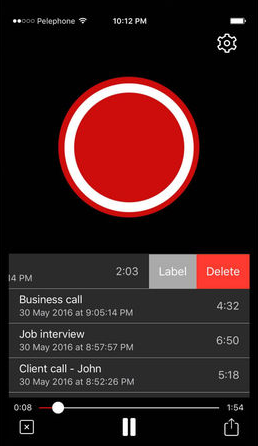 The recordings will be saved in "Inbox", the size of which can be set – that means the number of the recordings saved is limited by your phone memory. These recordings will be auto-deleted when "Inbox" is full; you can choose the important calls that you want to kept for a while to save it in "Saved Calls folder". You can manage the call recordings, add notes, and search the one you want by contact/phone number/note.
One smart feature of Call Recorder Pro is that it includes three automatic recording modes"
Record everything (defaulted): record call phone calls except for the contacts (pre-selected) to be ignored.
Ignore everything: record no calls except for the contacts (pre-selected) to be recorded.
Record specified contacts (Pro ver. only): record calls from the contacts you specified & save in the cloud.
Also, if you want to record a call which wouldn't be auto-recorded, just shake your phone while you are on the call.
Call Recorder Pro is charged per use so it's a bit expensive if you are looking for a long-term solution; yet, it is a decent choice for occasional use. The downside is that it includes ads. Call Recorder Pro may not be able to work on some types of devices, or does not provide as good audio quality as it should. So, do not jump into purchase unless you try it on your phone and are satisfied with the recording.
---
Best iPhone Call Recorders for Commercial Use
We have provided you with several iPhone call recorder apps for personal use, which can surely make your call recording needs easily fulfilled. But what if you are looking for a more professional call recorder for commercial use?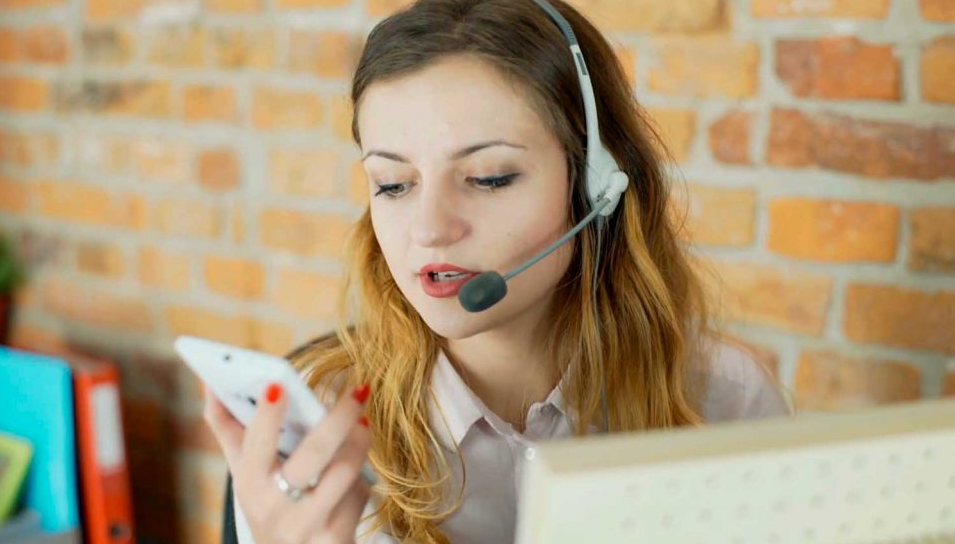 You and your team may need to call your customers and clients all day and it's necessary to record all the conversations to convert the call into sales. You need something more specialized for sales and customer relationships and sometimes you need to know the process of every call of your team and even share techniques and experiences with each other. Here are our top picks of call recorder apps for commercial use.
---
Chorus
Chorus is a cloud call recorder designed for the sales team. If you are running a business and need to call your customers every day and takes notes in the CRM tool, Chorus is the perfect solution to save some efforts and get the conversations automatically recorded and transcribed.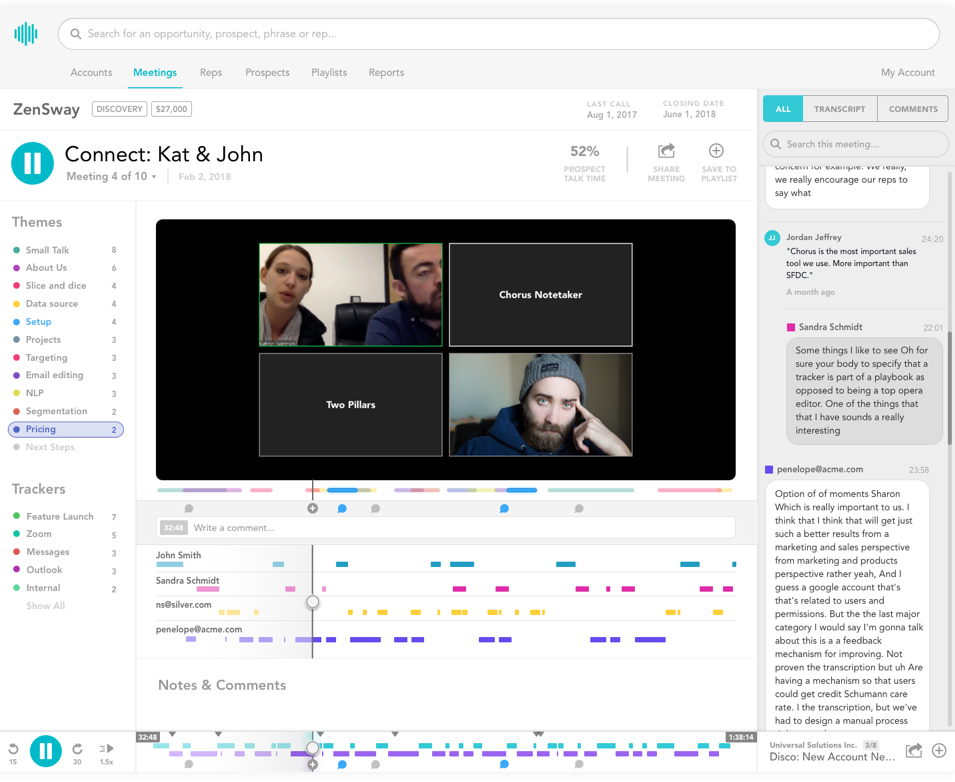 You are allowed to search recordings and transcriptions of the calls and share them with your team. You can review your calls to collect follow-ups and critique your style. You can also listen to the recording of your teams to learn different techniques and tricks on engaging with customers. It provides a free demo so that you can try and decide if you want to pay for a full-featured version.
---
Callcap
Callcap is a call recorder that can help your company or team to record, review and monitor phone calls. Many other systems are not so affordable for lean companies. It can automatically record and report all calls, archive them, share them and access to the recordings anywhere & anytime you want.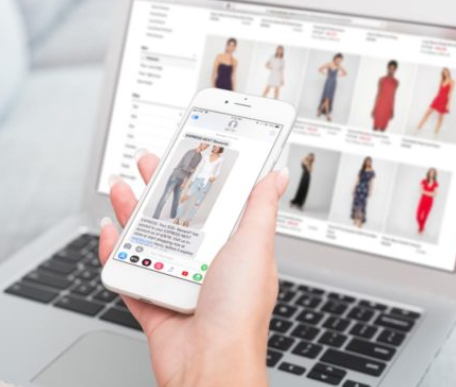 Callcap provides a &29/month basic plan as well as a $149/month professional plan so that you can choose the one you need based on the scale and profit of your business.
Please follow and like us: