Have you ever regretted not recording an important class lecture or business meetings or even a phone conversation? Or, probably digitizing your favorite magnetic cassettes and LPS has been missed before time. Fortunately, modern technology provides us with a variety of simple options today for recording the audio you want, so you literally do not have any excuse for not doing so. Now let's take a look at the top 3 Sound Recorder Software on PC.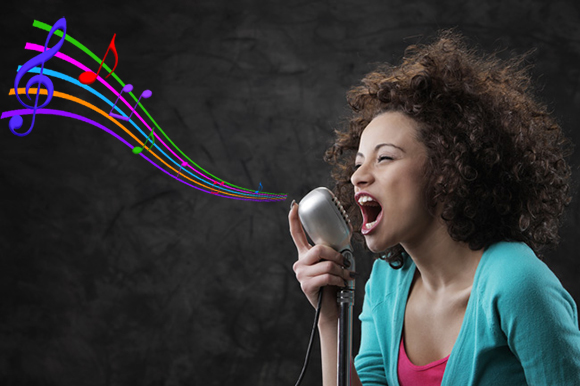 ---
Quick Overview: Best Sound Recorder Software for PC
Free Sound Recorder
Audacity
Traverso
Overall
(5 / 5)
(3.5 / 5)
(3 / 5)
Pricing
Free
Free
Free
Editing Options
Accociated Editor
High Definition Booster/Noise Suppression
Recording Schedule
Voice Activation System
(VAS)
Automatic Gain Control (AGC)
AGC Plug-in
Recording Filelist
Quality Preset
Autonaming
Simplicity
(5 / 5)
(3.5 / 5)
(3 / 5)
Sound Quality
(5 / 5)
(5 / 5)
(5 / 5)
Support
(5 / 5)
(4.5 / 5)
(2 / 5)
UI
(4.5 / 5)
(3.5 / 5)
(2 / 5)
---
Top 3 Sound Recorder Software Choices on PC
After weeks of research on this subject matter, we have found 3 free and efficient options to choose from:
There are various aspects that you need to consider while asses and select the voice recording software. Here are the criteria and features you may look at to compare the most efficient voice recording software.
1. Free Sound Recorder
Free Sound Recorder is developed and designed to record any voice or sound you hear. You'll get what you hear with this efficient tool. You can simply record voice or sound from an external LP, microphone, DVD/CD player, cassette, Satellite/FM/AM radio, etc. And, the recordings will be of high quality just like you expect.
Where it is recording podcasts, creating videos, advanced production tasks (sound), digitizing from musical instruments (music), having robust and well rounded audio editing/recording software is very much essential. However, there is a number of sound/voice recording software, ranging from professional grade production (audio) suits to lightweight applications with necessary functionalities (editing). If you're looking for all the functionalities in a single application, Sound Recorder Software would be the best choice for you.
---
How to Use Free Sound Recorder Software on PC
Step One: Connect Microphone to Your PC
Launch your Free Sound Recorder. Then, connect a microphone to the microphone input of your PC or PA to the Line-In or connect the output (Line-Out) on a sound system (external) on the computer.
Step Two: Choose the Sound Card and Sound Source
Find the "Mic Volume" clicking "Show mixer window" button from the dropdown list of "Recording Mixer". You have to select the right recording device from the dropdown menu of "Recording Device". Then, adjust the balance and volume.
Step Three: Adjust the Recording Settings
To activate the "Options" window, just click "Options". You have to specify a format (output) among WMA, MP3, OGG and WAV. To adjust the quality of the recording, click "Settings" to specify the parameters and the presets. To select the output folder, you need to click "Change". You can also auto-name the file (recorded) by time and date.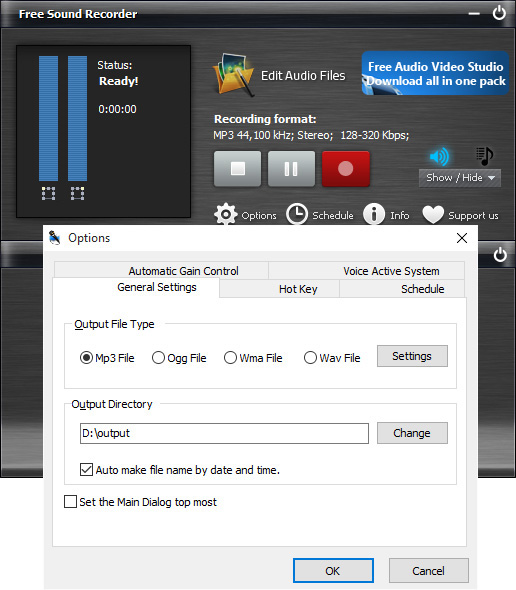 Step Four: Start Recording
To start recording, just click "Start recording" and to stop, click "Stop recording". The output (recorded sound) will be directed to your output folder and listed (with essential information) in the file list like location, file name, duration and time.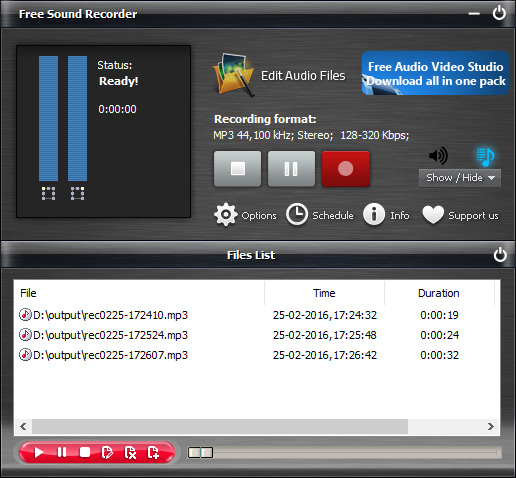 Video Tutorial – How to Record Audio from Computer with Free Sound Recorder
---
2. Audacity
Audacity is efficient audio recording software that puts a huge power into the hands. Moreover, it's loaded with various features (editing) and the capability to export tools that effectively work along with multimedia on a Mac PC.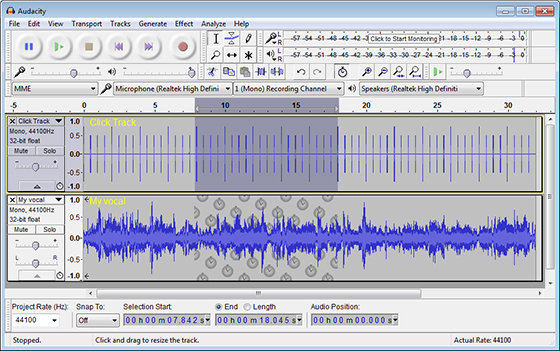 Cons:
Some operations and features are not quite intuitive.
No indicators of record levels, track levels or final mix levels.
Video Tutorial
---
3. Traverso
Traverso is recording software (free) that will meet most of your recording needs. It provides you with a wide range of options that helps you to record CDs (demo) with ultimate ease. There are some other brilliant features that you will like such as non-destructive editing, real-time (lock-less) audio processing and ability to edit files (audio) without changing the original quality.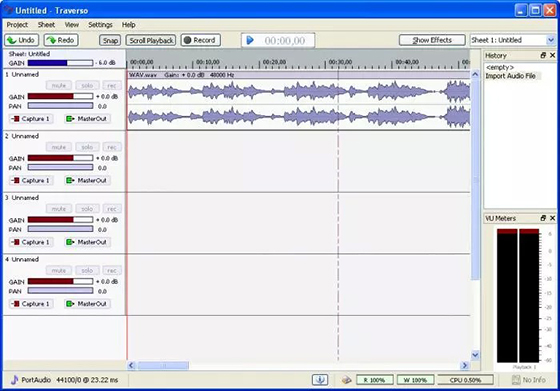 Cons:
Traverso does not have multi-track (advanced) recording capabilities.
It may take quite some time to learn for the new users.
Tutorial
Check Traverso step-by-step guide.
---
What to Look for in Sound Recorder Software
Most of the recording software (voice/sound) comes with a number features and tools to perform a great range of tasks, including editing, audio input and out. There are also some significant tools and efficient features that you might be interested in: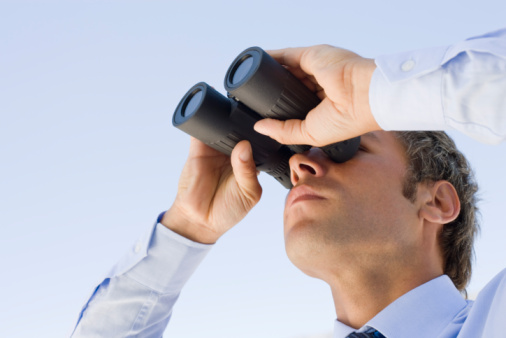 Efficient Features for Recording
It must include the common recording features such as record voice, sound, music, notes or other online audio. Also, the sound recorder should have some additional features or tools so that the users get the desired output easily from the input.
Ease of Use
It shouldn't be difficult to record your voice on the computer. The whole voice recording process should be simple and straightforward from installation to implementation.
Audio Filters or Special Effects
Most of the voice recordings require a little polishing or editing for better sound quality and audibility for the final edition. This can be done indifferent types of audio filters like Noise Reduction, Click and Pop removal, Amplify, etc.You can apply special effects to achieve a specific audio effect and further enhance such as Echo, Bass Boost, Sound Warmer, etc. An efficient set of filters are crucial components of sound recording software whether you are using effects and filters for voice morphing or clarity.
Edit Options
Simply recording an audit is not enough most of the cases for a sound recorder as you may need to edit the files and further enhancement are required. Insert and trim silence are useful features used to insert or remove silent audio to a file or track. Various options for changing size and file format are generally used for the output files and useful in the desired quality of the audio. For better archiving, a tag editor (integrated ID3) is used to appropriately label the files.
Help and Support
A reliable support and help system is important for a trouble-free and speedy learning experience, and it increases the confidence of the users. Manuals, tutorials, help files and FAQs quickly solve regular issues, whereas live chat, forum, email and phone support are most effective in addressing particular problems.
---
User Questions & Answers about Sound Recorder Software on PC
Q: I don't know how to use the application, so is there a user manual or tutorial of the software?
A: Of course! Every application of our company has tutorials to make you understand how to use it.
---
Q: I've recorded it, but there is no sound during playback?
A: Please carefully check if you've selected the right source for recording. Moreover, you've to ensure that the volume (recording) is not set to zero. You can check our tutorials (recording) for further guidelines.
---
Q: I can record from my mic but can't record audio inside of my computer, why?
A: When you try to record audio from your computer, you should choose the sound source as "Stereo Mix". If you choose Mic or other sources, the sound inside your computer will not be detected by sound recorder software.
---
Q: Can I record the BGM in a PC game?
A: Yes. You can start recording first (remember to choose "stereo Mix" as sound source) and then launch your game to play. When you are done recording, switch to Free Sound Recorder to stop recording and then you get your BGM recorded as an audio file. You may need some editing work after that so you can install our free audio editor via  the button below the filelist. Actually it is more suggested that you search for the BGM online to download it because it may have been published as a track of an OST.
---
Q: I want to record music on my PC. Do I need to worry about the sound of mouse clicking or keyboard pressing?
A: If you want to record sound from inside your computer, please choose "Stereo Mix" as your sound source and Free Sound Recorder will not record any external sound, neither mouse clicking nor key pressing; if you want to record from microphone, well, it is possible that you get some clicks & pressing sound recorded – so the best way is to do your clicking and pressing as noiselessly as possible, while keeping your mic near the speaker, away from your mouse & keyboard.
Please follow and like us: