Introduction
Have you ever wanted to record playing the piano or singing online Karaoke? Free Sound Recorder must be the right one for you to record live performances like voice, music or any other sound via your microphone. The program supports the record input/source from microphone with super high quality.
Step 1. Connect Mic to the PC
Launch Free Sound Recorder. Connect a Mic to the Microphone input of the PC or connect the Line-Out output on an external sound system or PA to theLine-In or Aux input on the computer. You can go to our tutorial page of how to connect various devices including Mic to the computer for more info.
Step 2. Choose Sound Source and Sound Card
Click "Show mixer window" button to choose "Mic Volume" from the "Recording Mixer" dropdown list. Then, select proper recording device from "Recording Device" dropdown menu. Adjust the volume and balance.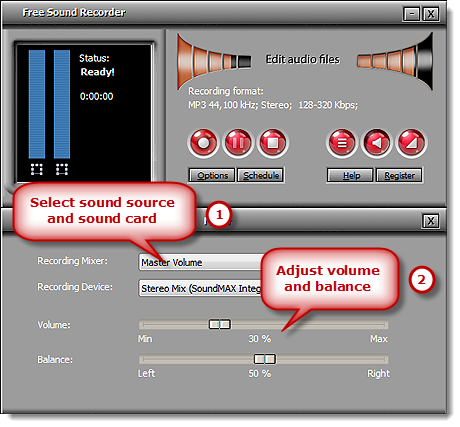 Step 3. Adjust Recording Settings
Click "Options" to activate "Options" window. In "General Settings" area, you can specify an output format among MP3, WAV, WMA and OGG. Click "Settings" to use the well-configured presets or specify the configuration parameters to adjust the recording quality. Click "Change" to select an output folder. It also has the ability to auto-name the recorded file by date and time.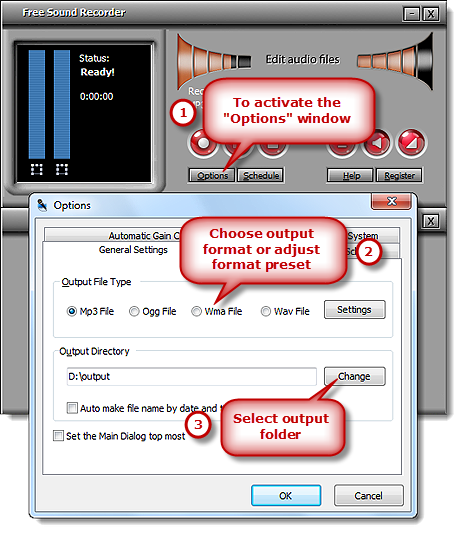 Step 4. Start Recording
Click "Start recording" to start. Click "Stop recording" to stop. The recorded sound will be directly output to the output folder & listed in the file list with detailed information like filename, location, time and duration. You can play the recording with the built-in player.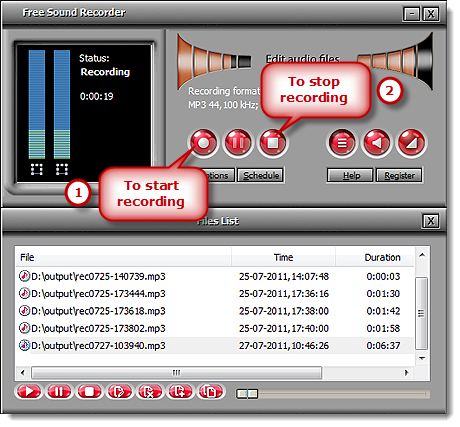 Please follow and like us: