Introduction
Do you want to Record Online Music, or any radio shows you are hearing online? It's very easy to get this job done with the help of Free Sound Recorder. This is a very neat tool that allows you to record music from any online music sites like Grooveshark, one of the best. Now, enjoy the recorded online music on your music player!
Grooveshark is a web-based music application built for anyone on the internet to listen to music on-demand at no charge. It is the easiest way to listen to free music online, with millions of songs to search for and play instantly.
Step 1. Activate Grooveshark Site
Click the Grooveshark button on the toolbar to launch it. Enter the song or artist you want to find into the search box & click "Search" button to search it.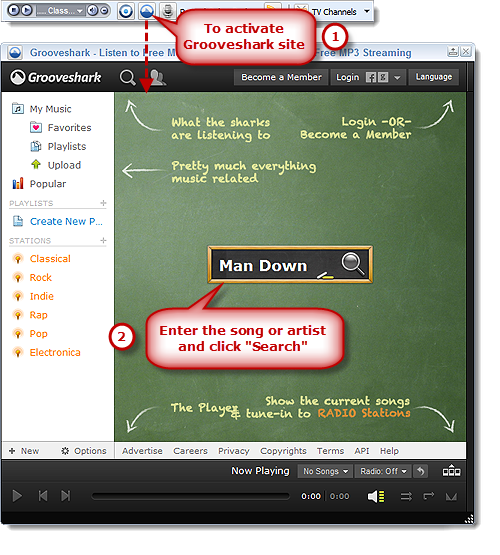 Step 2. Play the Song
The searching results will be listed. Click the "Play" button before selected song and a built-in player will start buffering to play the song.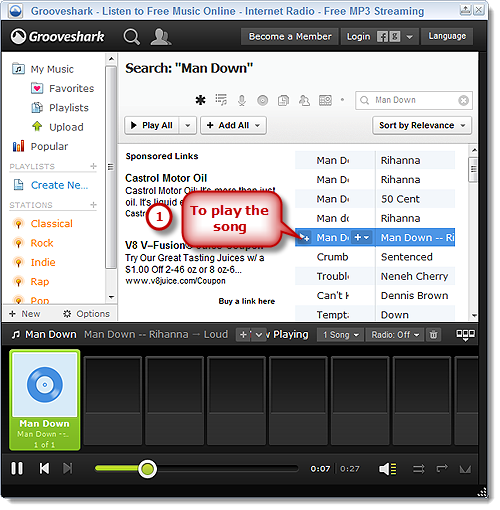 Step 3. Activate Free Sound Recorder
Click the "Record" button to activate the online music recorder. Click "Show mixer window" button to choose sound source from the "Recording Mixer"dropdown list. There are many kinds of sound source, including Stereo Mix, Phone Line, Aux Volume, Video Volume, Mic Volume, Line In, CD Audio and so on. Then, select proper recording device from "Recording Device" dropdown menu. Adjust the volume and balance.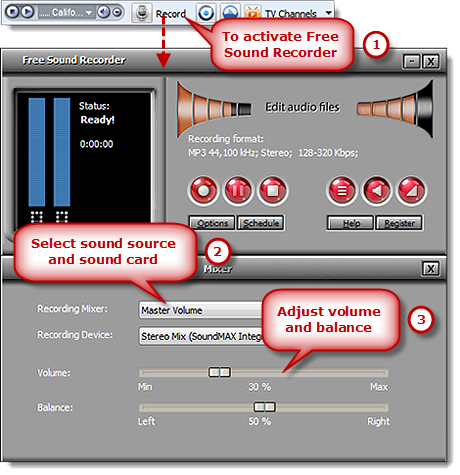 Step 4. Specify Settings
Click "Options" to activate "Options" window. In "General Settings" area, you can specify an output format among MP3, WAV, WMA and OGG. Click "Settings" to use the well-configured presets or specify the configuration parameters to adjust the recording quality. Click "Change" to select an output folder. It also has the ability to auto-name the recorded file by date and time.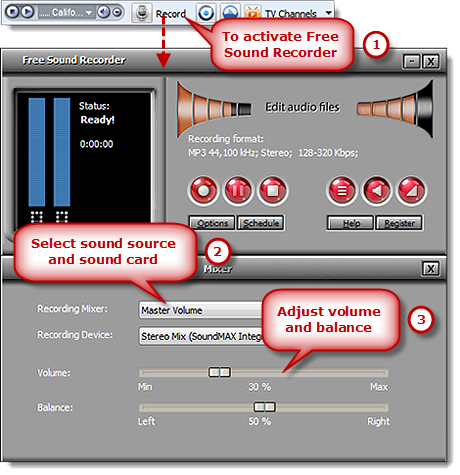 Step 5. Start Recording
Click "Start recording" to start. Click "Stop recording" to stop. The recorded sound will be directly output to the output folder & listed in the file list with detailed information like filename, location, time and duration. You can play the recording with the built-in player.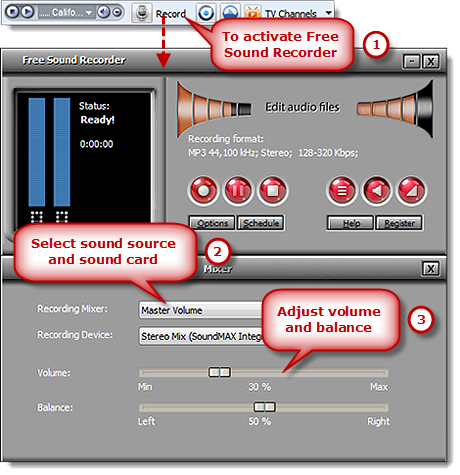 Please follow and like us: